Season 5, Episode 1: Vegas
---
---
Season premiere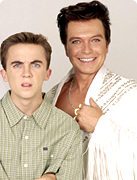 Aired: Sunday, November 2, 2003
Rating: 6.8/10
Full synopsis and review by Petch
Credits
Written by Michael Glouberman & Andrew Orenstein
Directed by Bryan Cranston

Special Guest Star David Cassidy as Boone Vincent

Guest starring

Kenneth Mars as Otto
Emy Coligado as Piama Tananahaakna Wilkerson
Meagen Fay as Gretchen


Co-starring

Ursula Whittaker as dream woman
Darlene Kardon as Gladys
Michael Merton as Joey
Donna Pieroni as heavyset woman
Jeffrey Anderson-Gunter as concert security guy
Dan Desmond as judge
Teresa Ganzel as Crystal
Loanne Bishop as woman
Javier Grajeda as man
Tom Lent as heavyset man

---
10.31.03 - TV Guide Online: Seven Silly Questions for David Cassidy
He doesn't wear his hair quite as long and funky as he did on The Partridge Family, but David Cassidy still is a heckuva lot of fun. On Sunday, the actor, crooner and '70s heartthrob appears on Malcolm in the Middle (9 pm/ET on Fox) as Boon Vincent, the obnoxious teen idol of Jane Kaczmarek's Lois. Asked to submit himself to seven silly questions, he said yes. We said: "We think we love you, Mr. Cassidy!" Although maybe he didn't love some of the questions...
TV Guide Online: Your Malcolm character's called Boon. Is he a boon to the show?
Cassidy: (Chuckles) You know you're doing something right when you're making castmembers laugh who've been there for four years. I drew from my experiences meeting the most egotistical, egocentric human beings who have ever dawned on a stage. Boon is so truly full of himself. He's the epitome of really bad taste, in a Vegas kinda way, but he thinks he's very hip and cool.
TVGO: So... Did you wake up in love this morning?
Cassidy: Wow. (Groans) Yes, I wake up in love every morning. 'Cause I went to sleep with you on my mind.
TVGO: Well, thanks! Did you beat up your brother, Shaun, when he was little? Is that why he never casts you on any of the series he produces?
Cassidy: Actually, he did cast me last year in The Agency. It's been a big issue for us over the years. He actually was beating up on his younger brother, Patrick, and I was the guy that would come in and save Patrick. Maybe that's the reason he didn't cast me until last year.
TVGO: Since Shaun was one of The Hardy Boys back in the '70s, we wondered why you weren't one, too?
Cassidy: They actually offered it to me first, and then they went to my brother. I had just finished five years touring around the world and had the largest fan club in history, and all the rest of that stuff. It was pretty wild. I definitely didn't want to do another TV series. I needed a break.
TVGO: Would you ever face off with Danny Bonaduce on Celebrity Boxing?
Cassidy: Um, yeah, if I were sad and desperate and extraordinarily tragic.
TVGO: Who's the hotter Partridge Family babe: Susan Dey or Shirley Jones?
Cassidy: I gotta go with Shirley. She still has it.
TVGO: As a former child star...
Cassidy: (Interrupts) No, I'm not! Never was, never will be. I didn't start working [in show business] until I was 19. I was actually out of high school and living by myself in Manhattan, so I wouldn't call that a child star.
TVGO: Understandable. I was just gonna ask if you were approached to do David Spade's movie, Dickie Roberts: Former Child Star?
Cassidy: No, I wish I had been! It's a sad genre, I can tell you that. In the truest sense, it's not funny. Four or five years after he was out of The Partridge Family and graduated high school, Danny Bonaduce was living in a Motel 6. It's really not funny. Rusty Hamer from Make Room for Daddy put a bullet in his head. When their moment as a kid is over, they're no longer seen as a viable commodity by film and TV in Hollywood. "How come you're not cute anymore?" I can't imagine what it must feel like when your career is finished and over at 16. Imagine trying to face the rest of your life, with people going, "Hey, didn't you used to be that kid that was on...?" I think a lot of them have a right to be bitter. Having said that, I don't know what that experience was like. I was finished doing The Partridge Family at 24, so I was not a child star by any stretch of the imagination.
---
---